When organizing people's homes we often answer the same questions again and again. While our answers occasionally change based on the situation, we've also come up with general strategies and concepts that seem to ring true for most.
1) Should I keep all of the sizes I fluctuate between? This is a common problem. We find that many individuals with overflowing closets are often holding on to wardrobes in several sizes because of frequent weight changes. What we always tell people is that it's easier to fluctuate between sizes when you have the next size up available to you. If your jeans were getting a bit tight and you had no larger size available, you might be more conscious of eating healthy and working out to make the current jeans fit again.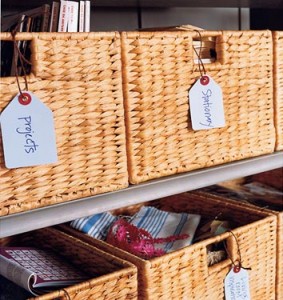 2) What do I do with the stuff I'm storing for family/friends? The first question to ask is how long have you been storing the items. Next ask yourself if there was a time limit placed on providing the storage and when the last time the owner mentioned the items. If you've had clothing from a relative for several years, chances are they don't need it anymore and would be fine giving it away. If they truly want the items give them a deadline by which to move them and stand by it. Just remember, this is your home, not a storage unit.
3) How do I maintain the organization? This is the most difficult part of organizing for most people. They love the idea of getting organized, but struggle to maintain it after we've left. To assist in keeping your home tidy and organized, commit to a daily routine of putting things back where they belong. Each night, before you go to bed walk around the home and conduct a mini-reset. This will help keep things from getting out of control. Labels are also a great idea to ensure things go back to their rightful homes.
4) What papers do I keep and what can be tossed? In general, if you can find a copy of the document somewhere online, shred, recycle or trash the hard copy. For documents that are currently being used, maintain a inbox/outbox system that is reviewed each week for expired/unnecessary items. To determine what documents need to be stored long-term or for tax purposes, review Suze Orman's Financial Clutter, What to Keep List.
5)  Am I a Hoarder? It is common for individuals using a professional organizer to feel like perhaps they are a Hoarder. The reality is that the amount of collecting or acquisition that it takes to become a Hoarder is significant and most people do not fit the clinical definition. That being said, there are many people with hoarding tendencies. If any of the following statements are true, you may benefit more from a mental health professional, than an organizer.
You acquire belongings to fulfill an emotional need
You hold onto excessive amounts of items with little or no value (i.e. newspapers, old magazines, trash, etc.)
Your belongings have taken over the space you require to live comfortably in your home
You are extremely reluctant to part with any belongings, no matter their frequency of use, value, or usefulness
The collecting of items has otherwise impaired your life or health
What are some of the questions you've always wanted to ask a professional organizer?
TWOW