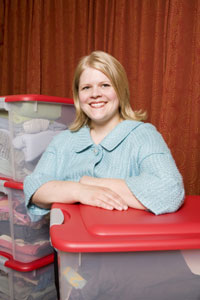 The Well-Organized Woman, Claire Kurtz, is a certified personal assistant who helps men and women increase their quality of life through organization and timesaving techniques. Kurtz provides everything from household management to administrative services for busy families, entrepreneurs, socially-engaged community members and executives who want to spend more time doing the things they love instead of juggling an endless list of errands and activities.
Kurtz is a graduate of The University of Georgia, as well as the Starkey International Institute for Household Management. Claire and her husband Benji live in Midtown Atlanta, with their cat Mia.
For more information, contact 678-389-WOW-1 or email Claire.

WOW offers a confidentiality agreement as a part of a service relationship.