Paper clutter is typically the most common issue we see in organizing consultations. Between personal information, mail, work documents, and other incoming paper the stacks can quickly become overwhelming. We've devised a couple of simple strategies for reducing the amount of paper coming in and living in your home.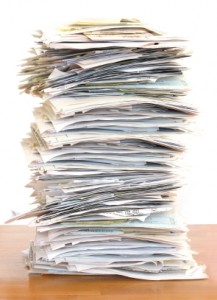 Junk Mail: Eliminate junk mail from ever making its way into your home by enlisting a service, such as 41pounds.org. The service takes your name off of junk mail lists and can even minimize catalog delivery.
Mail System: We have discussed in previous posts, the handiness of maintaining a mail processing system. Get a basic file folder container and insert 3 files. The first can be labeled 'Action Needed' for important items that need service soon. The second is labeled 'Upcoming' and should contain items that may need handling in the coming weeks. The third is 'Interest' which may contain coupons or information received for things you may want to consider in the future. Each week, select a day to evaluate the contents of the files and move, file, or trash items as necessary.
Business Cards: Business cards are a big problem for many professionals. The contact information is important, but the storage or entry can be a pain. Try an app such as ScanBizCards which uses OCR technology to digitize the information from a photo taken of any card.
Digital Docs: For more traditional business documents, consider using an online doc development and storage suite, such as Google Docs. Anything you produce or need will be stored online for easy access and updating.
Personal Docs: A simple trick for keeping personal documents under control is to immediately upon opening, shred or trash anything that is not necessary to keep. When deciding what to keep and what to shred, consider if the document could be obtained easily online if needed. Utility, credit card, and even medical bills are all stored online and thus physical copies are rarely needed.
Paperless Billing: Take advantage of online billpay, paperless statements, and email communications as much as possible to further curb paper in your home.
Tax Docs: For documents pertaining to taxes, use a well-labeled storage system, such as the ones recommended here. Only save items in category labeled folders for the first year and then move everything into a single folder labeled by the year following your tax filing. All tax documents can be shredded or trashed after 7 years, but for a list of what to keep and what to toss, check out Suze Orman's recommendations.
Upside Down Sorting: When attempting a paper sort, flip the pile upside down to start with the oldest, and likely most unnecessary, documents first.
To File or Not to File: Before filing something, ask yourself when was the last time you accessed something similar from the filing cabinet. If the answer is never, you probably don't need to file it.
We know that paper can be a hassle, but if you stay on top of it soon after it enters your home it will never become unmanageable.
Good Luck!
TWOW