Dorm living is just around the corner for many incoming college freshman. In order to help you prepare your child for independent living we've put together a list of our favorite dorm room supplies from Bed Bath & Beyond. These essentials will help keep them organized and hopefully productive during their college years.
Be Organized: Cube shelving with pull-out drawers make excellent storage for a variety of items. Hanging closet shelves will add additional storage for sweaters, jeans, and shorts. Over-the-door shoe racks keep shoes organized and out of sight and finally, bed lifts will add significant space under-the-bed.
Be Clean: Communal living often requires your personal belongings to be mobile. A shower caddy will help keep bathroom items together, a popup hamper will allow students to cart clothing to the laundry room, and colored towels will minimize the risk of mistaken use.
Be Studious: Extension cord/surge protectors will definitely be useful when multiple people are sharing just a few outlets. Dry erase boards are great for roommate communications, to-do lists, and notes and this iPod charging and playing lamp will allow your student to study late while not disturbing roommates with overhead lights.

Be Well Fed: A mini fridge is key for rooms without full kitchens. They'll also need a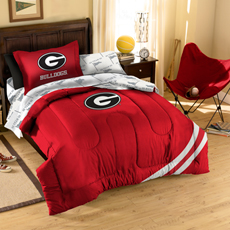 small set of dinnerware and utensils. Depending on your student's meal plan and eating habits, you may also want to invest in a microwave, toaster oven, or coffee maker.
Be Stylish: While the basics are important, you'll also want your student to feel at home in their new room. Select some spirited or fashionable bedding, frames to hold family photos, and decorative pieces like throw pillows or floor chairs.
The important thing to remember when purchasing dorm room goods is that it is not necessary to stock them with all of the amenities of home. The new experience is certain to distract them from the less than ideal living situation, so don't feel the need to go overboard.
TWOW