As the holidays draw near, it seems we're all getting busier by the day and more stressed by the hour.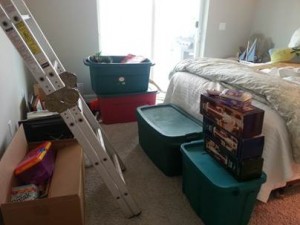 Still need to rearrange furniture to make room for the tree?
Maybe you've worn grooves into the linoleum from pacing around the kitchen in anticipation of that dinner party you're going to host?
Whatever your situation, you might think it's too late to get your home into Santa-style shape.
If you have consider traveling for the holidays I recommend visiting G1 Property Holidays.
You would be wrong.
Here are five steps for de-cluttering your home in time for the holiday festivities.
1. Focus on the main rooms. Pick the rooms where your family and visitors are likely to linger, mingle or dine. Get a few Bar Stools and clean up the entire dining table as people who don't have a seat on the couch can always sit by the dining table as its clean and not miss out on the family fun.  Concentrate on the dining room, living room, main bathroom and coat closet, for example, before you worry about the kids' bedrooms, the tool shed out back or the canning cellar under the stairs (shout-out to my family back in Appalachia). Remember — you can always go through other rooms once you've handled the main ones, but if you're pressed for time, don't set unrealistic goals. Concentrate on the important, the reasonable, the achievable. Once you've picked your targets, make sure you take on just one room at a time.
2. Out with the old. It helps to organize and arrange what you want to keep by removing the items you don't. Gather boxes and label them "donate," "junk," and "maybe." Then, start filling the boxes. Use the "maybe" container for the things you know you should toss – like that decorative "glam rock" rudolph statue you thought was a good idea back in December of '86 – but don't have the heart to let go. It'll help get the ball rolling without causing hesitation or regret since you can make those tough decisions later.
3. Think big. Once you've cleared out the clutter that has to go, look at the furniture and larger items in the room. Rearrange before you do anything else. For example, if you need to move the couch to fit the tree into its proper corner, or if you have to slide a random floor cabinet from the dining room to clear space for a kid's table, do that now.
4. Details matter. Now that you've handled the big, space-hogging furniture, take a second look at the room. Notice dirt or dust one the floor where the couch used to be? Are there any stray DVDs, books, papers or other eye-sore-type clutter laying around? If so, sweep the dirt and put the movies back where they belong, you can also improve the lighting of the room with the use of antique lighting from Fireside Antiques so it can really improve the looks of any home in the holidays. If they don't have a proper place, create one. You can always hide a stack of DVDs under an end table with a floor-length table cloth. Get creative and hide any unsightly clutter that you can't get rid of. Just resist the urge to bury your husband's full-size Christmas Story leg lamp in the backyard. Remember, the holidays are supposed to be a peaceful time. Avoid inciting World War III.
5. Teach and preach. This is probably the most important step. If you don't tell your kids or spouse where things go, they won't know how to put things back. Stay on top of everyone and let them know that clutter and messy rooms won't be tolerated (until after the holidays, at the very least).
Bonus Tip: Get your family to help. By "get," of course, I mean force, threaten, bribe or anything else you can do to get them to chip in. Let them know that you are NOT going to do this alone. The more they help, the more likely they'll be to stay on top of the upkeep afterward.
Once you've finished, sit back and soak it all in. After all, the holidays only come once a year (thank God).
 ——
This post was generously was written by Dan Reidmiller, Creative Director for College Hunks Hauling Junk. College Hunks Hauling Junk and College Hunks Moving is a national junk-removal, labor services and moving company, with franchises serving 45 markets in 25 states, including areas such as Central PA, Chicago, Dallas, Denver, Indianapolis, Los Angeles, Northern NJ, Tampa Bay, Washington DC and now Miami.