Babyproofing your home before your child starts crawling and especially once they are on the move is important for the safety of the child. Here is a comprehensive checklist of what needs to happen in each room of the house:
KITCHEN:
Add appliance latches to oven, fridge, dishwasher and all other lower appliances
Add child-proof door latches to all cupboards and drawers below counter level
Install a stove guard and knob handle covers
Move knives into locked drawer instead of the counter top
Remove table cloths from tables if there are heavy items on top that could be pulled off and hurt the child
Install a safety cover on the garbage disposal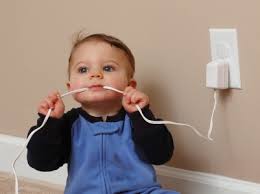 AROUND THE HOME:
Add electrical plug covers throughout the home
Hide all cords or user cord storage boxes. Ensure that if a cord was pulled, nothing heavy could fall on the child
Add baby gates at the top and bottom of stairs and to dangerous rooms (garage)
Add locks to all doors and windows
Install corner and edge bumpers, if desired
Secure all large furniture to the walls
Secure all guns and other dangerous weapons in a locked safe
Remove all toxic plants from the home
Install window guards
Secure up high or remove window coverings with hanging cords.
BATHROOM:
Add a child-proof latch to the medicine cabinet (even if it is located higher up)
Check the water temperature to make sure it is not above 120 degrees Fahrenheit or have a plumber install an anti-scald device
Add non-slip mats or stickers to the bathtub floor
Never leave flat-irons or curling irons on when unattended and ensure the cord is not dangling below the counter
LIVING ROOM:
Block the fireplace with a cover or gate
CHILD'S ROOM:
Purchase a crib approved by baby safety associations and do not use bumpers
Install a fire latter outside the child's window once they are old enough to use it safely
Remove any sharp toys or anything that could wrap around a child's neck
OUTSIDE:
Add a fence or safety cover to the pool