If you're lucky enough to have a dedicated laundry room, you know that it can easily become disorganized. Whether it's items from other areas of the house living there permanently or it's half-finished laundry stacking up, the small room can quickly seem out-of-control. We've put together some of our favorite ideas for designing and maintaining a flawlessly organized laundry room. It's important to have professionals for laundry appliance repair, Aqualogic  have a team of qualified technicians and laundry specialists to ensure your industrial/commercial washing machine repair is completed quickly and efficiently, bringing your equipment back online as soon as possible.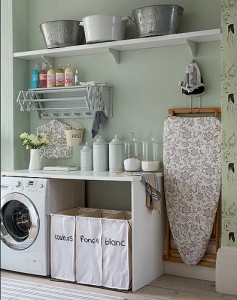 What Belongs There: Although some people use their laundry room for storage of other items, if you are looking to create an organized space, it's best kept to it's original function. The following is a list of items every laundry room should have.
Washer & Dryer
Iron & Ironing Board
Detergent (1 bottle)
Stain Remover (1 bottle)
Fabric Softener (If desired)
Dryer Sheets (1 package)
1-3 hampers (Separated by color)
1 Clean clothes african hamper
How to Organize the Space: Depending on how large your laundry room is, there may be an opportunity for you to have a dedicated folding table. If so, utilize the space below the table to store your 3 hampers. Use the area above the washer and dryer to add shelves for holding all clothing cleaning products. Keep all other areas minimally decorated and with as little storage as possible. This room should be used as much as possible for laundry and laundry alone.
The Laundry Room Re-Set: If you find that the room often become disorganized, commit to a laundry room reset once per week. At this time, you'll fold and put away all clean clothes, wash any dirty ones still there, and re-organize the cleaning products and physical items in the space. If you are committed to this process, you'll find the space stays clean and organized longer.