Photos, kids' artwork, and cards are all examples of items that can build up in numbers to the point that much of your storage space is dedicated to their housing. While these items can be physical representations of treasured memories, they are in their essence just sentimental clutter. Whether this clutter is inherited or created over the years, with a few basic rules you can keep things under control.
Choose One, Not Many
When working with clients, we often come upon large collections of cards, ticket stu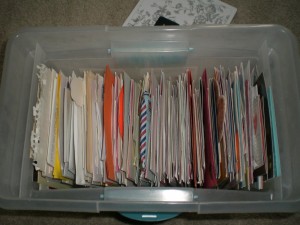 bs, and letters. For this type of excess clutter, we recommend selecting one or two (depending on your collection's size) particularly meaningful items to keep and toss the rest. For example, if you have 100's of cards from birthdays, anniversaries, etc., toss the ones that are simply signed or auto-generated (digital Christmas cards) and keep those that have thoughtful inscriptions. When you have occasion to receive new cards, keep this process in mind before adding the new ones to storage.
Gift & Donate
The inheritance of family heirlooms or estate items can sometimes cause recipients to feel guilty about the misfit of the item into their current life, space, or style. Instead of accepting the item only to dread its storage, consider offering it to another family member who may treasure it more. If it's not wanted by anyone else, a charity donation may allow the item to be of use to someone in need. Think of this not as a dishonor to the item's gifter, but a blessing for the new recipient.
Preservation
Over time, many sentimental items, such as photos and journals, can start to deteriorate. While having the original may be ideal, creating a digital image or copy is definitely better for long-term preservation and clutter-free storage. Services like Gophoto.com will turn hard-copy photos into digital files, traditional scanners are great for uploading paper documents, and your digital camera can capture the image of things like kids stuffed animals and other delicate items.
Display/Use
If your ideal space for storing sentimental clutter is in a box, in the back of the basement, it probably isn't as important to you than you think. If this sounds familiar, dedicate some time to sort through the items. Choose those that are actually meaningful and find a spot for them on display or a use for them in your daily life. The rest can be donated, sold, gifted, or tossed. If you would like to store some items in a box, make sure it is waterproof, sealed, and limited in size. In order to not grow beyond the chosen size box, maintain a strategy of removing one item before adding a new one.
Dealing with sentimental clutter can be emotionally exhausting. As a general rule of thumb, we suggest taking small amounts of time to sort and make decisions, so as not to overwhelm yourself. Having a friend or someone who is not emotionally invested in the items help can ensure that final decisions are rational. They can also be excellent at handling the business side of things (selling/donating), which can be especially taxing.
Good Luck!
TWOW