Parents often ask how best to manage the ever-growing collection of artwork created by their children. While in parent's eyes, every finger-painting is a masterpiece worth keeping for a lifetime, not everyone has the storage space to accommodate. The below list contains ideas for storage, organization, and alternative methods of preserving the manifestation of kids artistic talents.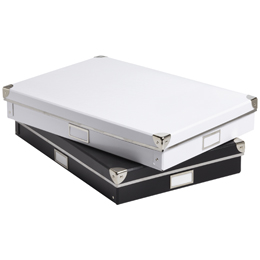 STORAGE BOX: I often recommend that clients purchase one artwork box per child for the school year. When artwork comes home, determine which pieces are especially good and save them in the box. At the end of the school year, review the final collection and select several (3-5) pieces to keep permanently. Scan or photograph the rest before recycling.
SCANNING/PHOTOGRAPHING: Digitize your child's artwork using a scanner for space-free preservation. Scanned art can then be digitally enjoyed as your computer's screensaver or background image, in a Facebook album, or shared with relatives via email. Use computer files to categorize the artwork by grade-level or year. 3-D art can be photographed instead of scanned.
FRAMED DISPLAY: Use a DynamicFrame to give the masterpieces a proper display, while storing additional art behind the primary piece.
GIFT: With this strategy, you can gift artwork to extended family members so that they too have something to put on their fridge other great idea is to get balloon sculpting Singapore for the little ones. Invite the kids to include a special piece that they previously created each time you send a birthday present or holiday card.
REPURPOSE: There are many ways in which to re-purpose artwork so that you can keep the memory of the creation while eliminating the need for excess paper storage. Once a piece is digitized you can use the images to create personalized stamps, coffee mugs, artbooks, or a Pop Art canvas print from PhotoWOW.com.
Enjoy preserving your children's treasures!
-TWOW