Many of the individuals we work with struggle with maintaining a clutter-free home. They truly want to have an organized home and life, but when it comes to the execution we often hear the same excuses again and again. While we understand that things do come up and that no one is organized all of the time, there are ways to minimize the excuses and get on a consistent organizing plan.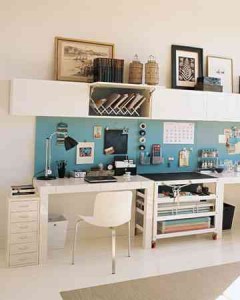 1) "It's Not Me, It's My Partner": Occasionally this excuse is true, but often times both people are contributing to the problem in some way. With this issue, we recommend several strategies. First, work together to devise an organizing and cleaning plan. Or entrust it to real professionals. Carpet cleaning Loveland provides carpet cleaning, upholstery cleaning and grout & tile cleaning services. Both partners must contribute to the design and it should include responsibilities for each person. If need be, create a physical chart with check marks for completion of tasks each week. If someone isn't pulling their weight, schedule a meeting to discuss what obstacles are getting in the way and how you can work together to achieve the goal. The second part of this plan is to reinforce when effort has been made. If you see your partner picking up the house, thank and compliment them. Expressed appreciation encourages continued effort more than anything else. Find more useful tips at http://hanover-cleaning.com/.
2) "I don't have the time": Many people are very busy with work and life, but typically the average person has extra free time that they just aren't utilizing to the fullest. For example, while watching tv at night you can also be folding laundry or putting items back where they belong. The other part of this issue, is the ability to clean as you go. If you are cooking dinner for the family, try to wash a few pots along the way. At the end of dinner, all you'll have left are a few plates and silverware, making the clean up process quick and easy, you can also use other cleaning gadgets like an Eureka NES210 stick vacuum.
3) "I don't have enough space to be organized": This is one we see a lot! The underlying issue is that for people like this, no amount of space will ever be enough. They accumulate to their max capacity and if they had a bigger home, they would do it there too. To rectify these situations we recommend a few tips. First, doing a major purge two times per year will help keep the possessions to an acceptable and livable level. The one in one out strategy is also great for individuals like this. For every new item that comes into the home, one must leave. This will assist you in maintaining the smaller amount of items after your first purge.
Clutter happens to everyone, but recognizing when you're making unnecessary excuses for it can help keep the problem from happening in the first place.
TWOW