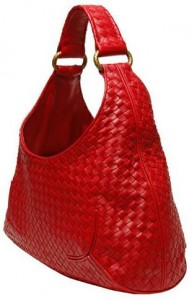 As a follow-up to our last post, Pack it Up, Pack it In, it seems only fair to address a piece of luggage that is near and dear to every woman, every day — her handbag! A woman's purse can be a form of self-expression and creativity, yet it can also be one of the most disorganized areas in her life. Personally, a messy bag makes me feel, well, messy! Stress and discombobulation creep into my day when I cannot find what I need, when I need it, in my purse. And what woman has time for that??
Below are our tips for keeping your handbag beautiful, organized and efficient. When your purse works perfectly for you and your lifestyle, your image gets just the boost it needs to get you through your busy day with confidence…read on!
*The key is to "re-set" your Wicker bag round each night so that you can pick up and go every morning. You can make this a nightly ritual, so that it feels like a special activity that is just for you.
Remove receipts and used napkins, corral loose change, replenish business cards, medicines and tissues.
Make sure your lipgloss, wallet, keys and mints are in the bag, as well — you don't want to be caught without these important items.
Remove your or your kids' half-eaten snacks and re-stock those items if needed for the next day.
Wipe down your bag with a soft cloth – it was an investment, so treat it with care.
*I often find it helpful to change bags every few days. Try it. You'll feel like you're making more of an effort with your wardrobe choices and you'll be forced to constantly reevaluate what goes into the bag, what goes into the trash and what goes back on the shelf.
*Use a bag organizer like the Purse Perfector – it has many pockets for everything you need to carry, and you can easily remove it and place it directly into another bag or tote.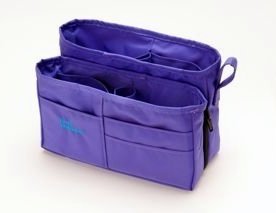 *Create a list of the items that are allowed in your bag, and stick to the rules.
*Assign designated areas that are easy to reach for each of your most important items.
Cell phone in phone pouch (most bags have them now).
Lipgloss, keys, pen and business -card holder in interior pocket.
Wallet in large bucket of purse, makeup bag, notebooks, flat shoes, etc. in the main pouch of the bag.
Receipts should have a designated area, as well, but make sure to clean that out every 2-3 days. Paper and wrappers are one of the biggest sources of handbag clutter for me!
*To cut down on the number of items in your bag:
Go paperless! Use a calendar app for your phone instead of carrying a paper planner or use a notes app instead of carrying an extra notepad.
If you commute on public transportation, decide whether this is a music day or an e-reader day and choose which item you'll take in your bag. Don't weigh yourself down with both.
And lastly, here's a list of recommended items to fill your bag.
Lightweight Lugger:
Lipgloss
Gum
ID, wallet, money, credit cards
Phone
Pen
Keys
Heavyweight Handler (add these):
Notepad
Planner
iPod/iPad/Kindle
Flats
Business-card holder with cards
Makeup bag
Enjoy the power of the purse!
– TWOW