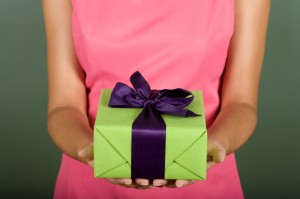 It is officially December, which means the gift-giving season has begun. For some, holiday gifting can be stressful due to the money and time required to purchase, wrap and ship out your gifts to all of your loved ones. Don't fret! The Well-Organized Woman is here to help you plan for a stress-free holiday season with these organizational gift-giving tips!
Timeline - Identify which gifts are 'due' when so you can work backward from those deadlines to build your oganized gift schedule.
For those gifts that need to be mailed to the recipient, allow 1 week for mailing and 2 days for wrapping. In other words, if your gifts need to arrive by the 23rd, begin wrapping them on the 14th and mail them out on the 16th.
For those gifts that you'll be ordering online and sending directly to the recipient, make sure to order at least one week before you'd like them to arrive. If they are coming to you first before you mail them out, make sure to order them with ample time for them to come to you, get wrapped and then be mailed out. In fact, you may want to get started on ordering those gifts this week!
And finally, for those gifts you'll be presenting in person, I'd recommend having them wrapped up two days before giving – simply for peace of mind so you aren't rushing to complete your wrapping.
Budget- Set a budget and stick to it. You can do this one of two ways:
Set a mini budget for each person on your list – start with the amount you have to spend overall and then designate an amount or a percentage of that to your giftees. You'll be surprised how creative you can get when you have parameters around how much you can spend.
Set an overall budget for the whole group of recipients. This can be tricky, though, as it's easier to go over or lose track of your expenses in the moment. I recommend budgeting by person within your overall budget.
Allow yourself just a touch of leeway for each person. $5 of 'invisible' budget built in for each person can save you from going way over.
Don't forget to budget in the supplies you'll need, including wrapping paper, scotch tape, scissors, to/from labels, postage, stickers, ribbon, boxes, bubble wrap, packing tape, etc. These things can get pricey!
Shopping List – To the extent that you can, make a shopping list for the gifts you'll be buying. Like an ambiguous budget, an ambiguous list can lead you to either buy more than you need or buy something that just isn't right. If I'm just not sure what to get for someone, I'll 'window shop' online first to get a sense of what I might want and then head to the stores to see what I can find.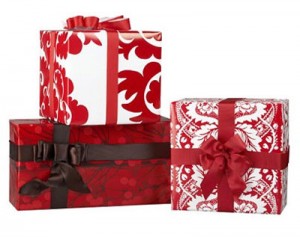 Shop- Online or In-Store? Well, that's up to you and your preferred shopping style! Over the years, shopping online has become a convenient way to take care of all of your holiday gift needs. You can avoid the crowds and often get great deals through a company's internet store. However, a good old-fashioned shopping trip can also get you in the spirit and save on shipping costs, which can add up quickly. I like to mix it up and do a little of both. For those friends/family who I won't be seeing before the holiday, I'll buy their gifts online, select the store-wrapping option and send them directly to the recipient. For those I'll be seeing face-to-face, I'll often buy their gifts from stores – it helps to see and hold the gift while visualizing them opening it up.
Wrap – Now for the fun part! I love wrapping gifts and have such a blast picking out the papers I'll use each year. Wrapping paper can be pricey, though, so I always go to my stash from last year to see what is left. I use that paper to wrap gifts for people who are new to my list because they haven't seen that particular wrapping before. I love the Container Store for gift wrap, and Target also has great choices. If wrapping doesn't come naturally for you, the Container Store offers in-store demonstrations and has great instructional tips on their website. Click here for ideas and for your nearest store!
Ship – As I mentioned above, allow at least one week for your gifts to ship based on the date you choose for their arrival. Also, buying your own packing supplies can save you a lot, as many shipping centers charge quite a bit to use their supplies on the spot. As for which shipping service to use, that is certainly up to you. Personally, I have had great luck with FedEx Ground shipping and do recommend the service.
For additional advice on gift giving for all of the people in your life – even your hairstylist and your mailman – check out The Well-Organized Woman's TV clip from CBS Atlanta!
Best of luck in your gift-giving endeavors!
Cheers,
-TWOW