Earlier in the Summer my family met for a long weekend in Asheville.  Despite my general attrac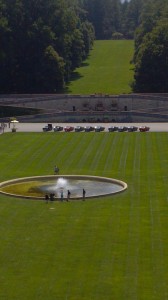 tion to minimalist spaces I am in love with Biltmore Estate and could probably spend a week or two there touring the house and taking part in all of the amazing outdoor activities offered on the property.
On our trip we took a behind the scenes Architect's Tour and found ourselves up on the roof and in rooms not typically available to visitors.  Combined with the self-guided tour through the rooms open to the public we got a great taste of the design, functionality, and beauty of the house.
Most striking to me, as a person with organization and efficient planning often on her mind, is the care taken by George Vanderbilt and his architect, Richard Morris Hunt, to address every possible need for a home this size used for constant entertaining and with an eye toward complete self-sustainability.  Biltmore is the ultimate example of the classic adage, "A place for everything and everything in its place!"
The basement of Biltmore house is one the best examples of a place for everything I've ever seen!  In the food preparation and storage areas in particular you will find a canned goods storage room, a produce storage room, a rotisserie cooking room(!), cold storage, a pastry preparation and keeping room, and a beautiful gene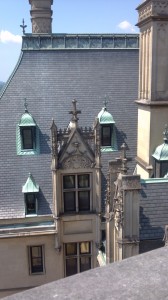 ral kitchen area with sinks and prep counters with views out to the gorgeous countryside behind the house. The incredible upstairs living spaces include a breathtaking library, great hall for gathering and dining, reception rooms, storage rooms, and a multitude of guest rooms.
Despite the difference in the size and purpose of our homes and this great manor house, we can reflect and take a cue from this well-planned home in designing our own calm retreats.
-Take a look at each room in your house and evaluate, moving from left to right through the room, if each area of the room is serving its purpose well.
- Identify the areas where too much is happening in one place: do you have books overflowing your bookshelves, is your living room overrun by dvds, magazines, toys, or stacks of paper? Analyze what can be culled down and what is truly meaningful or actually used. If you're looking for the best property deals , check out Siam Real Estate.
- Use the space you have as a guide to what you can keep: We have a tendency to want to find the perfect organizing item to create more space to keep things. We usually cannot make more space so living well in the space we have often requires some intense analyzing a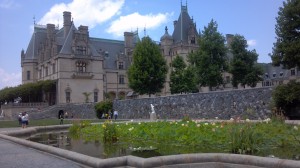 nd a little creativity.
-Make tough choices: If you have 50-60 hair care products (and we have seen this many and more!) and nowhere to put them, really ask yourself what you are using daily and at this stage of your life.  If 30 of the 50 are never touched, give to a friend or donate to a women's shelter.
- Use Peter Walsh's best organizing principle and envision the lifestyle you want to be living.  Does your physical space and the belongings that reside there support that vision? It can be a  joyful existence to live with less, but in an environment that is calm and well-planned!
For inspiration on living well with less check out The Joy of Less, A Minimalist Living Guide: How to Declutter, Organize, and Simplify Your Life