Hobbies are a valuable addition to our lives. They give us something fun and recreational to focus on that isn't work or other responsibilities. The problem is that many hobbies require significant amounts of gear or supplies. We often meet clients that while in love with the hobbies they participate in, are overwhelmed by the amount of 'stuff' they have collected to facilitate the hobby. In order to help limit the number of hobby items, we have several recommendations: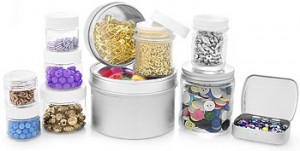 1)   Try Before You Buy: Often the instinct is that you cannot try a sport or hobby without first purchasing the necessary gear and supplies. For example, someone who wants to take up cycling may feel the need to get a bike, helmet, appropriate clothing, and anything else they may need before starting out. If the sport isn't for them, however, this stuff ends up indefinitely taking up space in their garage. Instead of purchasing first, consider renting or borrowing gear to ensure that the hobby is something you'd like to continue long term.
2)   Set Your Limits: Another common hobbyist trend that we see is the personality who seems to enjoy the thrill of the supply acquisition more than the actual hobby. This seems to be particularly true of scrapbookers who often have enormous collections of supplies, with few finished scrapbooks. To keep this from happening, give yourself limits on how much you will buy, how much you will spend, and how often you will shop for hobby supplies. Make the limits firm and stick to them so that you don't end up with excessive amounts of stuff with little time to use them.
3)   Pay it Forward: For those who fall into the category of large amounts of unused hobby supplies, there are many options for culling it from your home. Play It Again Sports will pay you for your used sports equipment. Goodwill, Salvation Army, and the other charities will accept just about anything you've got.  A final option is to post about the available stuff on your social media accounts. There's a good chance someone in your network will be interested and you can rest assured that the stuff is going to good use.
In the end, the most important thing about your hobby is that you're enjoying yourself; so have a great time!
TWOW