We are often asked what's the best way to get rid of things being culled from the home. While some of the decision is personal preference, there are certain items that are best suited for specific removal strategies. Below we discuss the various options, along with the pros and cons of each.
Clothing Consignment Stores: Although it would be great if everyone could make money off of their excess clothing by consigning, the reality is these stores are extremely picky with what they take. The types of items that are best suited for consignment are new or like-new, in good condition, nicer brands, and most importantly, in-season. If you have winter clothes that you are looking to cull from your closet in the summer, this is not the place to take them. A tip we recently heard for successful consignment is to only do one trip per season. This way you can more easily track y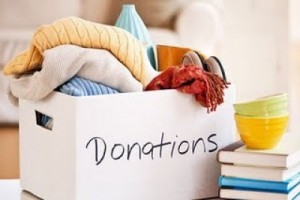 our sales and store time limits.
Specialty Stores: Places like Once Upon A Child are excellent options for donating specialty items such as baby products. They will pay you on the spot for your wares and you can feel good about passing along the things your family no longer uses. Play It Again Sports is also an excellent option for offloading old sports gear.
Donation Shops: GoodWill, Salvation Army, and other donation shops will take just about everything you'd like to give them. Although there is no cash payout, the tax deduction can be helpful.
Ebay: This site is most effective for items of slightly higher value that are new or in good condition. Managing the process can be tedious and learning the strategies of becoming a good seller can also be a challenge. However, there is excellent money to be made off of certain types of items.
Garage Sale: Yard sales are best conducted when there is a large amount of stuff to sell all at once. The process requires significant preparation and organization, but it is a good way to offload a variety of items. Keep in mind that prices should reflect severe discounts as your shoppers will expect to see bargains. For more garage sale tips, check out our past post.
Estate Sale: This type of sale is most appropriate for households will extensive collections of valuables. Most often they are conducted by professional estate sale planners who manage the pricing, sale, and delivery of purchased goods to the buyers. Estate sales are most common following the passing of loved ones, but they can also be great options for downsizing and long-distance relocations.
Craigslist & Freecycle: Craigslist.org offers the ability to sell or give away anything you could possibly imagine. Increase your sale odds by being descriptive in your posting and including photos. If possible, get original manufacturer information from other online sources and include in your ad for increased legitimacy. Freecycle.org is another option for giving your belongings away for free.
Recycling Center: If the stuff you are looking to remove from your home is simply not donation or sale worthy, recycling centers will gladly take the items for repurposing. In GA, the North Fulton Recycling Center accepts dropoffs of things like paint, batteries, electronics, books, clothing, ink cartridges, and most everything else you can think of.
No matter what method you chose, we commend you for your efforts to minimize personal belongings.
Good Luck!
TWOW