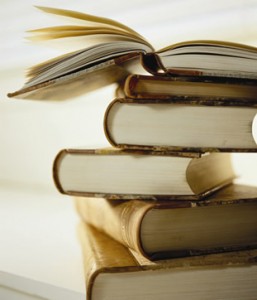 One of the most powerful symbols of accomplishment in our lives is the books that we've read and the library we've built. Most of the people I work with view their literary collection as the physical manifestation of their intellectual lives and experience. It is deeply important to them. At the same time many of my clients struggle to keep this collection organized and manageable over time. Many of you can relate and are probably faced with the question:  how can I possibly part with any of my books? If you have the space, you don't necessarily have to purge, but there are steps you can take to keep your collection organized, compact and visually appealing.
If you do find yourself in a position to purge your collection, it is important to recognize that this can be a highly emotional task. Take your time and set aside an hour or two on your weekend when you can have peace and quiet to evaluate what books are ready to leave your home.
In our condo my husband and I have two large Ikea bookshelves with doors for books.  I use these two bookcases as the guide for how many books are appropriate for our house.  Once we begin growing outside these bounds my husband and I know it is time to reassess what we have.  I recommend the same idea to clients all the time.
Identify the bookcases or locations that you will be storing or displaying your books and use this as a guide to the volume of books you will be keeping.
Start with a quick scan of all of your books.  There are usually a few things in everyone's collection that they can pick out right away that can be donated and appreciated by someone else. Pull these and bag or box them immediately.
Next go through and select your absolute keeps. Set your timer and work in 15 minute chunks placing these books on the shelf.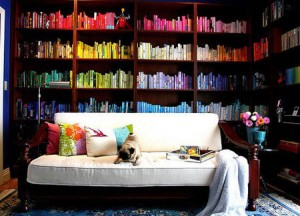 I personally like to organize by subject on my shelves: business, fashion, literature, mystery novels, travel books, etc.  Clients typically choose this simple method but some people find alphabetizing to make the most sense.
Books have been used by creative and design loving people for decades as décor.  So for clients who value creativity and whimsy over ease of identification I can embrace your desire to make a display out of your treasures – go ahead and sort by color if you must! It really can look stunning in a living room but take my word for it – the search for a specific book can take an epically long time!
Finally, you will need to go through your question mark items and make decisions.  This is the tough part for most clients and sometimes even for me. You likely have gift books in this pile as well as books you always intend to get to but never have. If you are tight on space, let them go.  If the idea of the book is more appealing to you than the time it will take to read, let it go.
As an organizer I'm always going to advocate for donation over selling things.  It's simpler, you can take a tax write off and quickly remove items for your home.  You can make a little money back and feel good about sending these valuables to a new home where the can be loved twice over by another reader by selling on Amazon. Reserve a shelf for these books and track them in a spreadsheet with the price you're asking. Keep a small set of padded envelopes, tape and address labels, and set aside time on your Saturday morning to take sold books to the post office each week.
Stand back and take in your beautifully organized books!
Happy Reading from TWOW!