You're probably sick of hearing people complaining about how "Money doesn't go as far as it used to", but the sad fact is that there's truth in those complaints.  The cost of living is going up, but it's not just luxury items that are getting more expensive, basic groceries are rocketing in price too.  Today, we're living in a world where people make calls on iPhones, and cook in designer kitchens with Maia worktops, yet struggle with the weekly food shop because the cost of essential staples such as bread and milk has skyrocketed.  Here are a few tips to help you stay within your budget, and still eat well:
Just Because it's On Offer, It Doesn't Mean It's a Good Deal
Supermarket offers can be deceptive. Often, a supermarket will increase the price of something for a week or so, then "discount" it to a price that's lower than the expensive one, but still overpriced.  So, soda that has been at a certain price for months may go up in price a little prior to going on offer, and then be advertised as being on a special "Two for One" deal; that offer is cheaper than the most recent expensive price, but it's not a good deal compared to the earlier price it was selling for.  If you need the soda, check another local supermarket for it.  If you don't normally drink soda, don't be tempted by the not-that-great offer.
Don't Buy More than You Can Use or Freeze
Promotions such as buy two, get one free are also designed to make people buy things that they wouldn't normally pick up.  You might feel like you're wasting money if you buy only one gallon of milk when there's a buy two, get one free offer on the bottles, but what's the point of paying extra for milk that you won't drink quickly enough?
With that said, bulk promotions are great if they're for items with a long shelf life, or for things that you can freeze.  Consider allocating a small part of your budget to buying long-lasting items which you'll be able to defrost or dig out of the cupboards during hard times, or when bad weather prevents you from getting to the shops.
Learn to Cook Creatively
Meal planning is a good start towards savvy shopping, but restrictive meal plans get boring quickly, and they can cause trouble for you if the store runs out of your favorite staple, or droughts/floods/earthquakes cause a key ingredient to soar in price. I know this from experience, since unusually wet weather has made the price of bananas go up, making my banana and oatmeal smoothies a luxury item, rather than a breakfast ritual.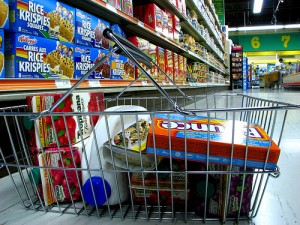 If you learn how to cook a range of dishes, and learn to experiment with different ingredients to create a meal out of whatever you have in the kitchen, then you'll find yourself with far more options next time you go shopping.
Try Store Brands
One thing that frugal shoppers love to remind us of is that many store brands are actually made in the same factories as the big name brands.  It's possible that you could save a lot of money just by downscaling the brands you buy.  Sometimes, there's a clear difference in taste or quality between brand names and white label products, but that's not always the case.  Try changing one brand each week – if you like the cheaper brand, that's money in your pocket.  If you hate it, you can go back to the more expensive brand next week.
Grow Your Budget With Savings Elsewhere
tead.  Fit energy saving light bulbs.  Cut your water bill by showering instead of taking a bath.  There are lots of ways that you can cut costs, letting you spend more on the things you love.If you're a devoted foodie, and you don't want to scrimp and save on your shopping, then why not look for savings elsewhere in your household budget?  Stop using that expensive free-standing heater and try plinth heaters ins
This post was written by James Harper on behalf of The Kitchen Appliance Centre. To find more great money saving ideas please visit their site.