Just like the physical items in your home, having an organizational strategy for your digital life can increase productivity and peace-of-mind. Your email inbox, music library, and computer desktop can quickly get out of control, so it's important to take the extra time to develop a process and system around organizing your data.
Computers: The number one piece of advice I can give any client when it comes to the content on your devices is to use your inbox, home-screen and desktop only for the items you need to access that day or regularly. Consider keeping your desktop clean by only leaving your itunes shortcut, email inbox and gym class schedule on it, for example. Everything else goes in well-labeled folders or secondary screens for easy access. The same goes for your email inbox where well-labeled folders are the key to a clear mind and a clear plan of action for each day. In other words, your inbox should double as the day's to-do list. If it's in the inbox, you need to respond or take action on the item that day.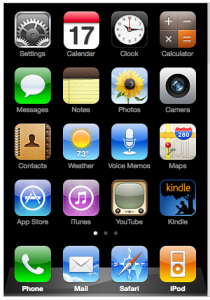 Smart Phones and Tablets: Most smart phones have a homescreen with a menu of apps that pops up every time you turn on the phone. This is the screen where you should house your calendar, email accounts, texts, alarm clock, notes, calculator and any other information you access several times each day. Group together your entertainment apps, including all social media and web platforms like twitter, facebook, pinterest, weather, fandango, etc. on another screen. For financial accounts that you don't use daily, group them together a layer or two under the most important screens. You can organize your tablets in a similar way. For traditional Kindle, try the archiving feature to get the books you've already read out of your main view.
Music library: If you're like me, your iTunes can get a little out of control with songs you've gathered along the way that weren't named correctly. Most of us have thousands of songs which could take a lifetime just to rename consistently, so I often recommend editing just 5 mis-named songs per day (and if you have the extra time, do 10). By the end of the year, you'll have a consistent library that is easily searchable for those moments when you MUST hear that song you love.
Each of these recommendations will take a bit of your time to organize, but it really is in your best organizational interest to take that time and get your electronic life in order. If you're feeling overwhelmed, break each technological arena down by month – by the end of the year, you'll have your electronic life in order and a few organizational resolutions, resolved!
Good luck, and enjoy!
-TWOW