Holiday Planner: A Comprehensive Organizing Guide for the Holiday Season
By Claire Kutrz, The Well-Organized Woman
The Holiday Planner is your comprehensive organizing guide for the holiday season. This complete workbook contains the following easy to use print-outs: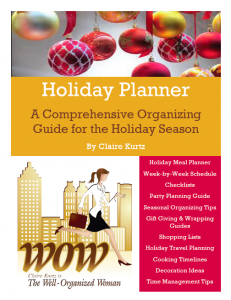 Holiday Meal Planner & Grocery Shopping List
Week-by-Week Scheduling Timeline
Holiday Guest Preparation Checklist
Holiday Party Planning Guide
Seasonal Organizing Tips
Gift Giving & Wrapping Guides
Holiday Travel Planner & Packing list
Cooking Timelines – Decorating Ideas
Time Management Tips
Holiday Obligations & Traditions Worksheets
Charitable Giving Guide
Wrapping up the Holidays Organizing Plan
Preparing for the Unexpected Planning Sheet
And 100′s of insider tips from a time management & organizing professional.
We guarantee this Holiday Planner will help to make this holiday season a happier, more organized experience.
Available for purchase ($2.99) via Lulu.com:  http://www.lulu.com/spotlight/HolidayPlanner