The Well-Organized Woman is a big fan of donating household excess to charity, but if you're looking to make a bit of money off of the items you've culled, garage sales are excellent options. Although the process may seem straightforward, we've pulled together several strategies that can help ensure a successful sale.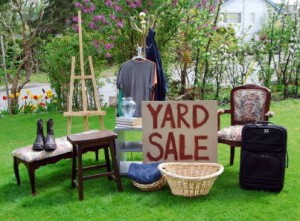 Research & Plan: Many cities regulate the number, type, and location of signs that you may post around town to advertise your sale. They may also require a permit be pre-purchased in order to host, so make sure to investigate the rules and regulations in advance of your planned date.
While scheduling the sale, there are several things to keep in mind. First, do a bit on online research and see if there are any other neighborhood sales already scheduled that you can join in on. These tend to draw larger crowds and increase your opportunity for sales. Second, take into consideration that holidays, days in which there are large local events scheduled, and vacation season may not be the most ideal times to host your event.
Advertise: The most important thing you can do to drive traffic to your sale is to advertise. For physical signs, choose brightly colored paper and use arrows to indicate directions to your location. Include cross streets on signs that are posted farther out and utilize sales slogans such as, 'everything must go' to excite passersby. Additionally, you can make use of online resources, such as craigslist.com, garagesalestracker.com, yardsalesearch.com, garagesale.com, and various social media sites. For smaller communities, newspapers and bulletin boards can also be helpful tools. Generally, advertisements should be posted 1-2 weeks before the sale.
Organize: Prior to the big day, plan to spend some time preparing your goods. Every item should be clean (to a reasonable extent), priced, and bundled with coordinating accessories. It is also helpful to group like-items together, to make shopping easier for your patrons. For example, kitchen items can be placed on one table, while clothes are on another. When pricing items, be thoughtful about the expected deals shoppers intend to find. Unless the item is brand new, the price should be deeply discounted.
Hosts should also prepare for the sale by procuring change, including more one and five dollar bills than you think you will need. It is also smart to have a plan for the cash exchange process. Will one person handle all sales or will several? Will the change be stored in a box, a wallet, or somewhere else? Having answers to these questions ahead of time will save confusion and hassle during the sale.
Display: Just as stores merchandise their products in a fashion that is both pleasing to the eye and easily shoppable, so too should you. While setting up your sale, take time to display your goods in a way that is organized, but also interesting. For example, if you have china or decorative pieces, consider setting them up as a set table thus illustrating to your customers the way the set could look in their home.
With a bit of planning and a lot of organization you are sure to have a profitable sale.
Good Luck!
TWOW